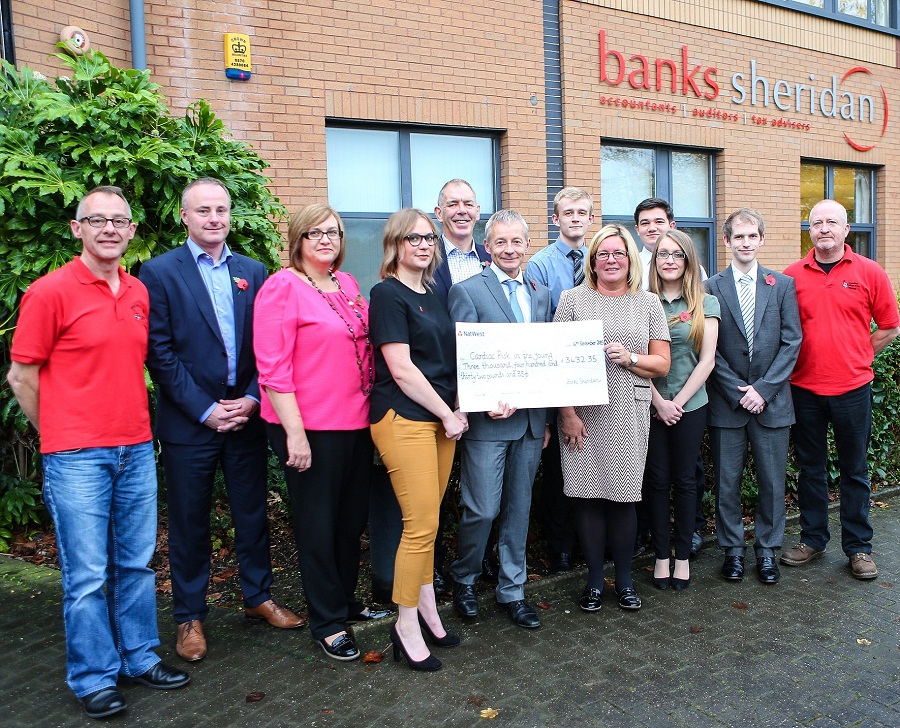 A team of ten from Banks Sheridan, including Directors Stuart Banks, Darren Walley and David Morris, took part in a gruelling 34 mile walking challenge and raised £3,432.35. This amount has been donated to Cardiac Risk in the Young (CRY), a charity dedicated to preventing young sudden cardiac death through awareness, screening, research, and provide support for affected families.
Banks Sheridan adopted CRY as its chosen charity in memory of local man Dan Hughes, who tragically died suddenly, in his sleep in March of this year, aged just 28. Dan was a great friend of Banks Sheridan accountant Nathan Shaw, who together with other friends of Dan, have been raising funds for CRY throughout 2015.
Banks Sheridan's aim was to collect £2,000 to add to fundraising totals already accumulated in Dan's memory. Ten members of the Banks Sheridan team looked to complete the 34 mile Sandstone Trail, which runs from Frodsham to Whitchurch, in one day. On the day of the walk, it soon became apparent that they would beat that amount thanks to the generous donations made by clients, colleagues, family and friends.
Banks Sheridan Director David Morris said: "Everyone in the office has been involved in the effort to raise money for CRY. I am delighted at the sum of money we have managed to collect; it is a fantastic achievement by all concerned in the organising and fundraising. It has been humbling to see the commitment, dedication and enthusiasm required in undertaking such an event for our chosen charity.
We were all very saddened on hearing the news of Nathan's friend Dan, and were only too happy to be able to do something positive at a time like this. We are hugely grateful to all our clients and contacts for their generosity by helping us raise over £3,400."
Chief Executive and Founder of CRY, Alison Cox MBE added; "On behalf of all of us at CRY, I would like to say a huge "thank you" to Nathan and his colleagues for organising this unique event to raise funds in support of our ongoing work to prevent the incidence of young sudden cardiac death.
"We are hugely grateful for the generosity and support of the public which allows us to continue funding our pioneering screening, awareness, research and bereavement support programmes. I'm always bowled over by the lengths that people will go to in aid of CRY and challenging walk is no exception!
"As is so often the case, a personal link to CRY and the tragedy of young sudden cardiac death has been the driving force behind this initiative. It takes great courage and determination for anyone who has been affected by young sudden cardiac death to be able to see beyond their own situation and to want to raise funds for CRY. I find it very humbling that despite their own experience, bereaved families, friends and local communities are still able to support us through such tremendous fundraising efforts."
Every week, 12 apparently fit and healthy young (aged 35 and under) people in the UK die suddenly from a previously undiagnosed heart condition – a statistic that is believed to be a conservative estimate. In 80% of these cases, there will have been no signs or symptoms of a heart defect until it is too late, which is why CRY believes screening is so vitally important (particularly for those involved in regular, physical activity). Indeed, the charity now tests around 20,000 young people each year, aged between 14 and 35.